You would think that a $2.3 trillion budget deficit would arouse a little more uproar, however, fortunately (or unfortunately) the human mind is exceptionally bad at interpreting large numbers so unsurprisingly trillion-dollar budget deficits don't quite register.2 To comprehend the magnitude of a trillion dollars we need to put it into a more comparable perspective; according to the Endowment for Human Development, if you stack 1 trillion one dollar bills one on top of the other, the height of the stack would reach 67,866 miles which is ¼ of the way to the moon!3 So a $2.3 trillion stack of one dollar bills would reach over half way to the moon. Whilst this may be just another small step for the US Treasury, it is definitely a giant leap for mankind! 
The US accounts for about 25% of global economic output however over 50% of all global currency reserves and trade is in US Dollars.4 This unique privilege, a result of the 1944 Bretton Woods agreement, allows the US to print as many dollars as it wants without the risk of a balance-of-payments crisis. This unique privilege also means that despite being the largest country by imports, the US doesn't need to hold large foreign exchange reserves and actually ranks 17th in the world just behind Poland.5,6 Controlling the "world currency" conveys another unique great power (and great responsibility), namely the ability to sanction and punish its adversaries and strategic competitors. The US has increasingly used its control of the Dollar trade and payment system to sanction and punish its adversaries and strategic competitors using legislation such as the International Emergency Economic Powers Act, the Trading with the Enemy Act, the Patriot Act, Defending American Security From Kremlin Aggression Act, and the Strategic Competition Act. Weaponization of the US Dollar and payment system whilst elegant in subduing enemies without needing to fight is ultimately self-defeating and sows the very seeds of eventual (dollar) defeat. Whilst, the US has engaged in some form of financial strongarming for years, President Trump's wanton disregard of a rules based international order, elevated financial coercion into a new artform. According to Adam Smith, former US Treasury official, Trump was "using the importance and attractiveness of the US market to the rest of the world as a coercive tool to get others to bend to his will".7 Politicians are oftentimes poor students of history and would do well to heed Britain's experience of imposing direct controls and restrictions on the Sterling area which accelerated the demise of Sterling as a reserve currency.8
De-dollarisation is nothing new and in fact the US Dollar's share of global central bank reserves has declined from 71% in 1999 to a 25-year low of 59% at the end of 2020.9 We can also see this trend in figure 1, which highlights the growing difference between total global reserves and total global US Dollar reserves over the last 20 years. The fact that global US Dollar reserves significantly slowed during the Trump presidency may very well shine a bright light on the wisdom of some of his policies.
Figure 1: Total Global Reserves vs. Total USD Global Reserves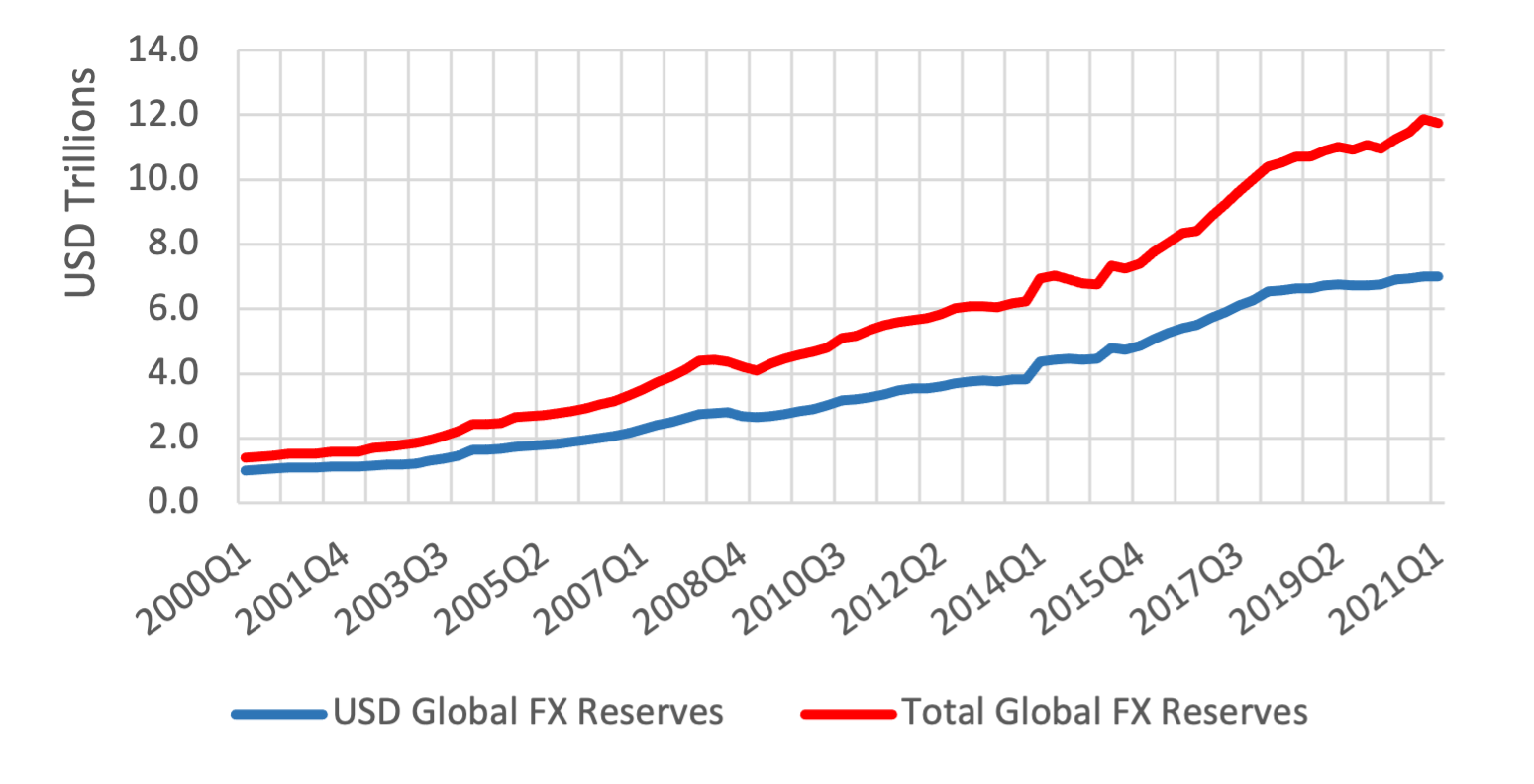 One of the beneficiaries of de-dollarisation has been Gold, which have been increasingly added to global reserves by countries increasingly worried about the long arm of US "justice". For example:
-       Russia which added 1,600 tonnes to its gold reserves over the last 10 years, and
-       China which added 900 tonnes to its gold reserves over the last 7 years.10
Figure 2: World Gold Reserves on an upward trajectory since 2008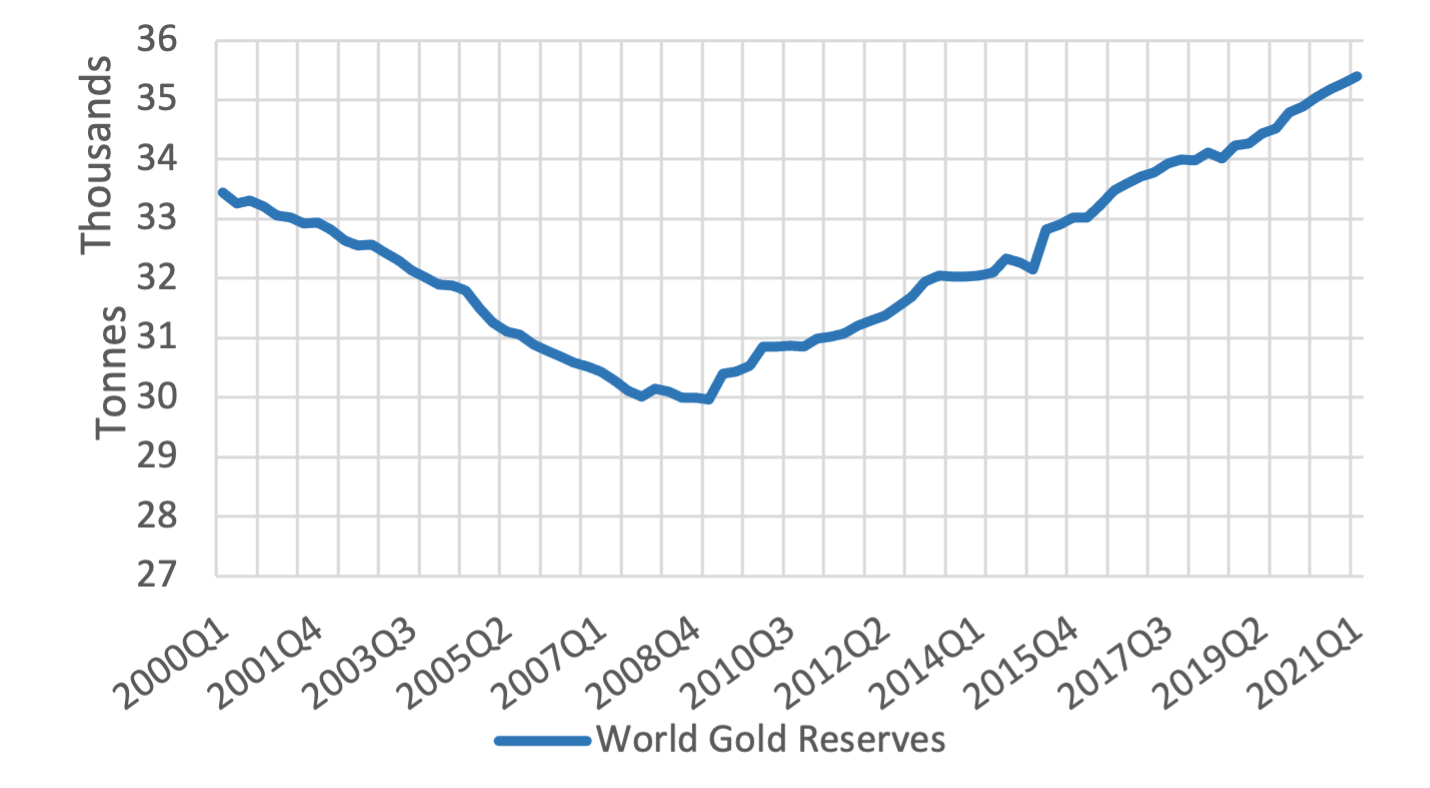 Brown's Bottom
As Venita VanCaspel once quipped "Inflation takes from the ignorant and gives to the well informed" a lesson Chancellor Brown would have been wise to heed; in 2000, the median US Household could afford to buy approximately 151 oz of gold, whilst 20 years later in 2019 the median US household could only afford to buy 49 oz of gold which translates into an effective reduction in purchasing power of 68%!11,12 
Over in the UK where an Englishman's home is his castle, property ownership is a national birth right with over 60% of households owning their own homes.13 Property is well loved and revered here in the UK and well known to preserve generational wealth, however, even here we can see that the average price of a UK house declined by more than 50% in Gold terms.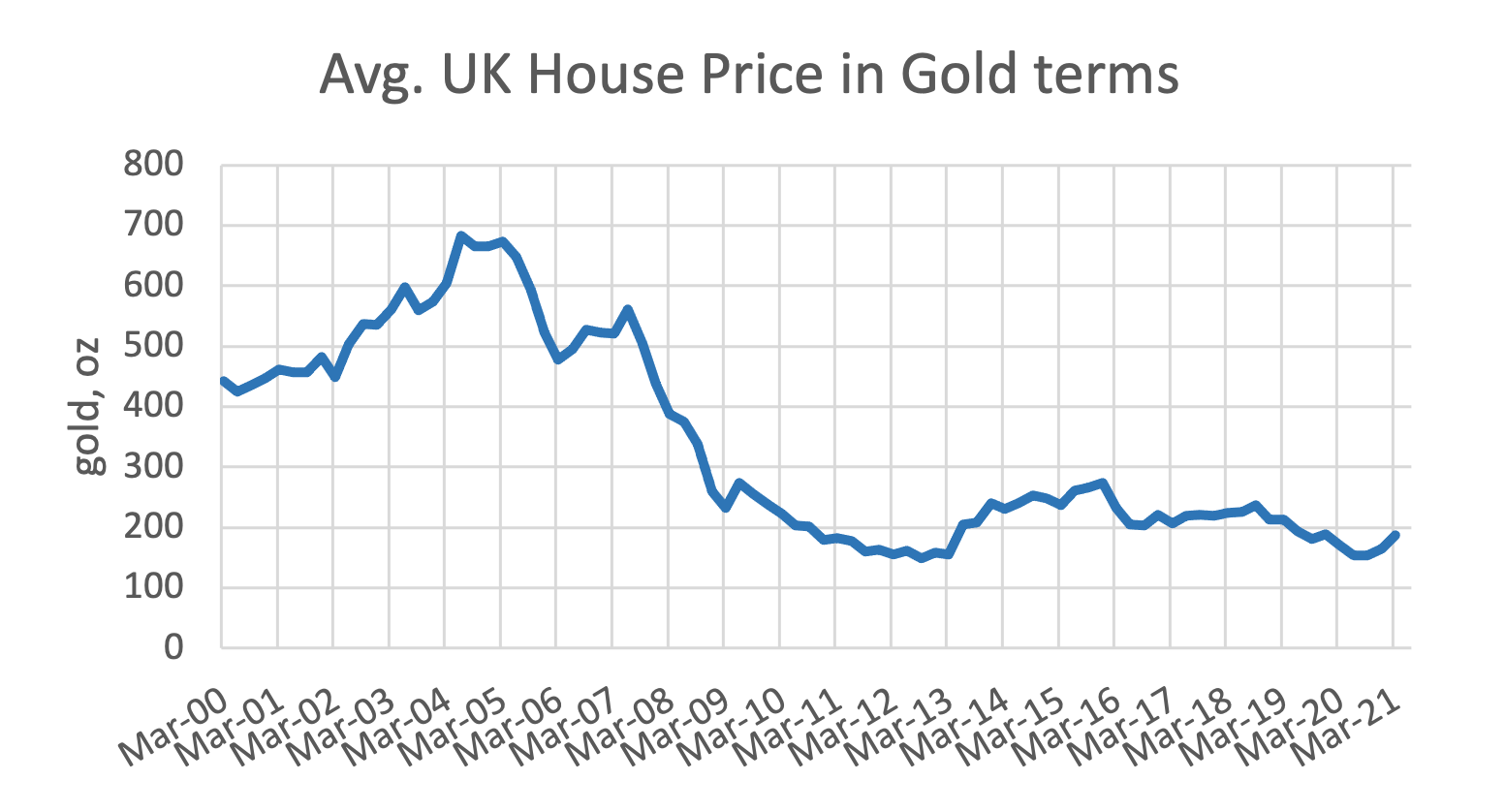 The experience in the UK would suggest that an investment in gold at the turn of the century would have been a far more lucrative decision than an investment in property. In fact, gold has been one of the best performing investments over the last 20 years gaining over 600% in line with emerging market equities Once you account for product costs as low as 14.5bps for a gold ETC and 60+ bps for EM equity products, an investment in gold over the last 20 years would have been Buffetesque in its wisdom!

Footnotes
1. https://www.cbo.gov/publication/56996
2. https://towardsdatascience.com/the-small-problem-with-big-numbers-4f3dad23ce01
3. https://www.ehd.org/science_technology_largenumbers.php
4. https://statisticstimes.com/economy/projected-world-gdp-ranking.php
5. https://www.indexmundi.com/g/r.aspx?t=10&v=89&l=en
6. https://www.gold.org/goldhub/data/monthly-central-bank-statistics
7. https://www.ft.com/content/5694b0dc-91e7-11e9-aea1-2b1d33ac3271
8. https://www.quceh.org.uk/uploads/1/0/5/5/10558478/wp21-02.pdf
9. https://blogs.imf.org/2021/05/05/us-dollar-share-of-global-foreign-exchange-reserves-drops-to-25-year-low/
10. https://www.gold.org/goldhub/data/monthly-central-bank-statistics
11. https://www.census.gov/library/publications/2001/demo/p60-213.html
12. https://www.census.gov/library/publications/2020/demo/p60-270.html
13. https://www.ethnicity-facts-figures.service.gov.uk/housing/owning-and-renting/home-ownership/latest